Managing an e-commerce website can be quite challenging, not least because there are many factors that influence its success. You have to worry about sales, suppliers, backorders and customer satisfaction, among many other things. However, it is important to put yourself in the customer's perspective from time to time and try to understand whether your online store offers everything they are looking for. In this article, we'll cover what customers expect from an e-commerce store and what you should do to improve their experience on your website.
Professional and attractive design of an online store
You've certainly entered an online store and left seconds later just because the design seemed dubious. An e-commerce site, regardless of the products it sells, needs to convey security and trust. A professionally designed design should, through colors, fonts and shapes, make the customer want to navigate through the different pages. Captivating the public's interest is the first step to getting sales.
fast speed
It doesn't matter how competitive your prices are or the high quality of your products – if your website is too slow, customers will not have the patience to wait and will shop elsewhere. It is important that pages load in just a few seconds. Otherwise, there will be no lack of other online stores that customers can turn to. In an increasingly competitive online universe, it is important not to miss these small details.
Quality Product Images
Before making a purchase, customers like to see the product, preferably from as many angles as possible. Images are thus a great way to make your product known and to avoid disappointment when delivering orders. Ideally, from the photos, customers already know what they can count on, so it is necessary to capture images that are true to reality. Ideally, from the photos, customers already know what they can count on, so it is necessary to capture images that are true to reality.
To do so, follow these tips:
The background of your photo must be white;
The product must be highlighted in the photo;
Take photos from all angles;
Take photos in which small details, such as fabric and lettering, are highlighted;
If it is an item of clothing – take pictures wearing the items.
Short and clear descriptions
Product descriptions should be short but very informative. Currently, customer attention time is increasingly short, so avoid putting long and monotonous texts in your description. First of all, select the most important data you need to share. Then, structure the information in an appealing way for faster and easier reading. You can use, for example, small dots or numbers to organize important data. Don't forget to make sure your text is clear and understandable for everyone.
Reviews from past customers
Social proof is of utmost importance to convert a customer. We want to buy quality products sold by reliable entities, and there is no better way to confirm that this is exactly what happens if not through reviews from people who have already gone through this process. Therefore, it is important to include a section in your online store where previous customers share their experiences.
security guarantee
We all want to shop online safely and avoid theft and other inconveniences. Any self-respecting e-commerce site needs secure payment methods to protect its customers. Most importantly, the public needs to feel safe. For this, it is necessary to include SSL certificates and good security protocols, which increase the confidence of website users. As soon as customers see the symbol representing an SSL, their trust increases and purchases are eventually made.
transparent pricing
There's nothing that annoys a customer more than unexpected added costs when it comes time to pay. Be transparent and indicate the total price of a given product as soon as the customer clicks on it. If VAT is not included in this price, please mention it next to the price of the product. Never inform the customer of an increased price only at the last step of the purchase process. If you do, the customer is more likely to be unhappy and end up not buying anything. Also, if applicable, make sure the shipping price is also mentioned upfront.
Easy navigation
Navigating your online store should be simple and intuitive. Don't complicate the purchase process with unnecessary steps. Don't put too much information that could end up confusing the audience. Create pages that are relevant and easily accessible to anyone. If the customer doesn't understand the structure of your site or if he can't gather the information he wants within a few seconds, he can kiss another sale goodbye!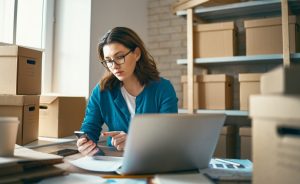 The success of an e-commerce business depends a lot on your website, more specifically, on how the information is presented. The type of content is equally important, so don't rule it out. By applying the aforementioned tips, you will certainly maximize your audience's experience and satisfaction.
Need help with your online store solution? Get in touch.