Managing multiple social media accounts and thinking about regular content is no easy task! If you want to know an affordable way to plan, organize and publish content for your social networks, this article is for you. We will explain why you should create a content calendar for your digital platforms and share some tips for doing so! Say goodbye to last-minute and poor quality publications and welcome well-planned, relevant and consistent content!
Social media calendar – what does it consist of?
A social media calendar consists of an overview of your upcoming posts. Usually, this calendar is created in an Excel sheet or in Google Calendar, and allows you to organize your publications on a weekly or monthly basis, for example.
Typically, a social media calendar includes the exact date and time the post will be made, the social network and account in question, a description of the post, the photos or videos to be posted, related links or tags, and any other relevant information. You can organize your content for multiple accounts that you have, and for different platforms.
Why should you use a calendar for social media?
For any brand, an active and consistent social media presence is absolutely crucial. You need to publish relevant content frequently in order to keep your audience interested and up to date. However, if you have different accounts on different platforms, planning what posts to make can become exhausting. Several brands eventually lose momentum and their online presence weakens (which is why social media managers are increasingly in demand!).
The following are the main advantages of using a calendar for social media:
Saves time
Normally, these types of calendars are created at the end of one month, so that they can be used at the very beginning of the next. By planning all the monthly publications to be made, you end up saving a lot of time throughout the month, since you don't have to brainstorm about what content you should publish.
Helps you to publish consistently
As already mentioned, all brands should seek to maintain an active online presence. By posting regularly, both in your feed and in stories, you are reminding your audience of your existence and increasing the chances of seeing your engagement climb significantly. Consequently, your organic traffic also increases and new people discover your page more easily.
Helps you create higher quality content
If you plan your content in advance, you will have more time to think about what kind of publications would be most appealing and relevant to your audience. On the other hand, if you don't have your ideas organized, you will end up thinking of content at the last minute, which will result in rushed and not-so-relevant or even repeated posts.
Make fewer mistakes
By planning your content in advance, you will have more time to check for spelling mistakes, shared information, and other factors that, when not checked, may go unnoticed… which is not good if you want to maintain a professional image!
How to create a content calendar for social media?
In order to create an effective social media content calendar, we recommend following the next steps:
Define the type of calendar you want to create
First of all, it is essential to think about the type of social media content calendar you want, i.e. do you prefer to create a weekly or monthly calendar? Some people plan new content every week or every month. So think about the method that is most convenient for you. We recommend using a monthly calendar and having your publications prepared for the next 30 days…so you don't have to worry about what kind of content to publish every week!
Choose the platforms
It is important to think about the platforms on which you intend to publish. Is your brand present on Twitter? On Instagram? On TikTok? Find out where your target audience is most active and define the most important social networks for your brand.
Set the rhythm of your publications
How many times a week do you want to post on your feed or in your stories? Of these publications, how many of them are photos and how many are videos? Remember that lack of content can be just as harmful as too much content. Normally, we would say that three publications a week is more than enough to maintain a consistent online presence. In the stories, try to post daily!
Think about what data you need to include in your calendar
Now that you have chosen the platforms to focus on, it is time to think about the details of your publications. In your social media content calendar, you should include:
Date and time for publications
Description
Multimedia elements
Links
Extra and relevant information
All this data should be properly organized in your calendar by creating categories and subcategories.
Use different colors for different actions
The overview of such a calendar can create some confusion. Too much information can lead to deception when it is not properly organized and easily recognizable. As such, we recommend using different colors for each social network, and for the different categories within it (you can see an example later!). This way, mistakes will be prevented and it will be easier to find the information you are looking for!
Example of a content calendar for social networks
Next you can see a social media calendar that is properly organized: with categories, subcategories and distinct colors to make the information easier to read.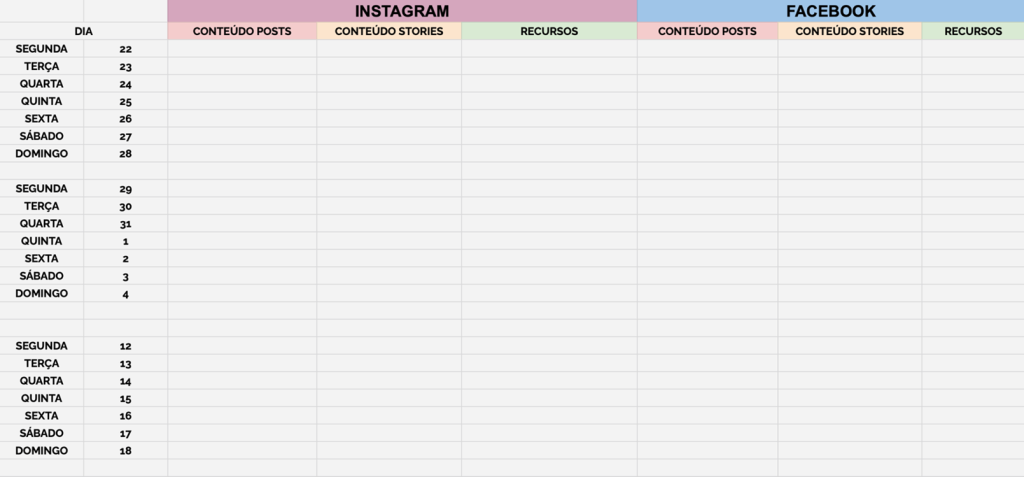 A content calendar for social media is, without a doubt, a great ally for any brand that wants to maintain a consistent online presence. Forget about last-minute posts and go for a monthly calendar organized to save time, increase brand engagement, and make sure your audience doesn't forget about you!